About
Editor's note: This page is one of several sources of background information provided on the site. Depending on what you are looking for, you might also try the following vital research hotspots: our ((link=FAQ|/faq::Visit our FAQ page)), the ((link=Press Room|/press::Visit our page of press materials)), and the ((link=blog|/blog::Visit our blog home page)).
Walt's Incredible Story

Walt is one of a kind at the very most. Would that the rest of us were more like him!
As a shadowy and at least occasionally fictional personage, however, Walt does not seek a public role, but contents himself with lurking meaningfully in the background as though helping. This site is not about him. It is about his band.
Nick, a man of more hats than heads, has been composing for years. Now that some of his songs are all but finished, they must be hung out ceremonially to dry on the world-wide washing-line, for such is the timeworn custom of our village. To that end, Walt has commanded us to build this site where the songs can live out their dotage in penury but with self-respect. He said to make it exactly 600 cubits long, but we have skimped a little on that to reduce load times.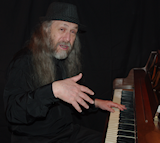 Thanks to digital technology, all songs can now be preserved for all time. When you buy a Walt's Band piano arrangement or MP3, you are helping to create a Walt-enriched eternity for you and your children.
About the Images
Unwilling to seek professional help for a secret doodling habit, Nick turned instead to tablets. Hiding away with the band's iPad and neu.Draw, a free drawing app, he began to unleash his singular imagination, for indeed he has but one.
It was only later, during the construction of the website, that Walt remarked how many of the odd images Nick produced in odd moments happened also to embody themes and archetypes from his songs, and that they were available for nothing. It was, he said, both a match made in heaven and a marriage of convenience.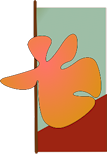 Take for example Glee, the image at left, which has emerged lately from a quiet existence to become the official song badge image for One-pound Bag. Does it not perfectly encapsulate the joyous energy that Beethoven must have felt upon sharing a moment of inspiration with the coffee-loving Mozart?

Or what could better express the timeless vow of Pledge than the turtle, the ancient symbol of strength, determination and serenity that some say carries the very world on its back?
[Walt had insights of equal plausibility and interest for the other song images, too, but he forgot to back up the file, and bingo.]
About the Songs
Long before computers invaded every home, long before the first grey hair appeared in his beard, Nick was composing songs: songs to sing, songs to delight, and songs to dismay, baffle, irritate, nauseate or disconcert.
Most of the songs on this site, present and future, were written between 2001 and 2003, but there are a number of outliers in both directions. Nick wrote them in the middle of the night with a guitar. The piano arrangements are new, and prepared specifically for this site. They provide a more fully-rounded impression of the music than would be possible with just a melody line and chords.
The arrangements are intended to be performable just as they come. You should be able to get a good idea of how they sound from the videos. You can also use them as source material when creating your own versions of the songs, whether for piano or for other instruments or ensembles.
It takes a lot of practice to craft a good song, and enormous dedication. We dedicate our songs to everyone in the universe.
The facts and nothing but the
FAQ

s

It may seem improbable that anybody could want more information than even this page supplies, and quite unbelievable that someone at our end would have done anything to make it available. Well, prepare to gawp in dumbstruck wonder. Ladies and gentlemen, allow us to introduce to you, as our menu system currently does not, Walt's remarkable, opinionated, intermittently factual, site-design-bucking, variably entitled, ((link=FAQ page|/faq::Visit our FAQ page)).
Journalists rejoice!
We have added a ((link=Press Room|/press::Visit our page of press materials)) to the website as a help to anyone who might be interested in writing or broadcasting about Nick's songs or the many rich facets of the Walt experience.
Contact
Walt awaits your communications at our quiet and undemanding ((link=contact page|/contact::Fill in our contact form)), or drop us ((link=an email|mailto:webmaster@waltsband.com::Send us an email)). And by the way, don't forgot to mention us tonight when you are saying your tweets.