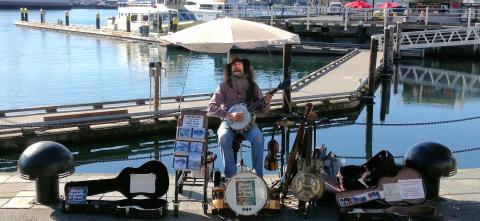 Victoria, B.C., Canada: We get a lot of sunny days here at this time of year, and it really brings out the best in the exquisitely groomed and manicured postcard scene that is Victoria's Inner Harbor. The birds fly a little lower and sing a little sweeter; the water taxis and pleasure boats bob a little more eagerly in their slips; and the genetically-engineered ivy covering the Empress Hotel emits just a little bit more of the subtle airborne sedative that Walt believes gives Victoria its trademark Victorian charm. What a lovely place to be!
Victoria is so pleased if you think so. And because selling the town is the joint responsibility of every community member, here's a contribution to that cause in the form of a song — one that, like the tourism industry itself, might be just a little too upbeat.
Although Victoria is a passionate song with deep promotional significance, I admit it does play fast and loose with the truth. For one thing, it calls "the Causeway", "the Pier", an error in nomenclature that would cause any true Victorian to collapse into one or two polite titters of laughter. In reality, of course, the item in question is in no way a pier. Or a causeway. It is maybe a promenade.
Another thing you'll find more of in Victoria's Inner Harbor on a fine summer afternoon are buskers, who rent spots along the Causeway (nowadays often called the Pier) in front of the Empress. Etymologically, a busker is a seeker: the Spanish buscar means "to look for". By contrast, the medieval troubadours and trouvères, and il trovatore in the opera, were finders; the French trouver means "to find". I suppose the change in emphasis reflects that being a troubadour is all about finding a patron, whereas being a busker is all about direct sales.
On that point, it's distressing to note that not all tourists encourage buskers with the same merry abandon as they do the other merchants of the town. The song has a verse that is dedicated to fighting this lamentable and long-standing injustice, but it might be a shade oblique:
Take a stroll down by the Pier, Gentle music you may hear, Why not leave a souvenir Here in Victoria?
A souvenir of cash in a busker's instrument case, that is. Busking is more than just an exceptionally difficult career path. It's also a great way for a hard-working musician to be pointedly ignored by hundreds of people an hour. I must say, however, that on a sunny afternoon when the ivy spores are in the air, it doesn't look so bad.
Picture: Renowned Victoria busker Dave Harris, a Causeway regular, in performance with all the members of his one-man band — an experienced and unusually cohesive ensemble with a single-minded musical focus.