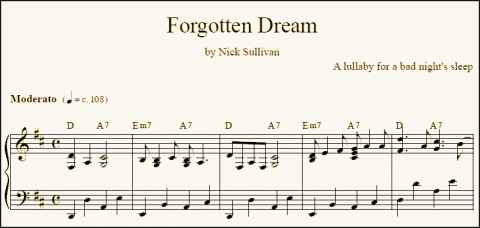 My new song Forgotten Dream raises some difficult questions, which is to say, questions without answers. Are you the same person when asleep as when awake? Can danger dwell in forgotten dreams? But for me as the author of the song, the most perplexing question raised by Forgotten Dream is, "In what style am I written?"
Assigning a style to a song is extremely important for songwriters, because it allows them to properly fill out forms that have a Genre field. Such forms lurk around many corners, particular when one deals with services that register songs for various business purposes — for copyright, for Internet streaming, for MP3 sales.
The trouble is that songs don't really have or need genres until they are made actual by being performed. At that point genre is coupled less closely to the work itself than to the instrumentation of the particular performance. You might say that a genre amounts to a proven approach to making music with a given ensemble type. For example, almost anything you can sing effectively with an acoustic guitar or banjo can be called folk music, if you use the term as a genre label rather than as a pedigree or an affiliation. The same tune in a form suitable for string orchestra will likely sound classical. Set it for winds and drums instead, and you might end up with light jazz. Or a Sousa march.
The music for Forgotten Dream has two parts, one dramatic, the other phlegmatic. To some extent I think of them now as representing disturbed and peaceful sleep respectively, but since the song is a decade old and this only occurred to me comparatively recently, it's not official, just a notion. I'm not committing to it. That musical contrast, however, lies somewhere near the essence of the song; whereas genre is just its clothing on a particular occasion.
The piano part in my arrangement of Forgotten Dream is in a style that to me sounds mainly classical, especially in the instrumental verse. (Perhaps "quasi-classical" would be a better word: I was very young when Beethoven died.) But it's just one possible approach to playing it, even on the piano. When I used to play the same song on the guitar, it came out more like, guess what, a folk song.